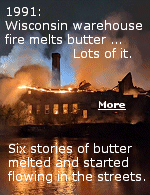 The warehouse stored more than 50 million pounds of food, including cheese, Oscar Mayer meats, and Swiss Colony products. The buildings that burned contained 10 to 15 million pounds of government surplus butter,
More

Where are the airplanes for sale?
I still arrange for ferry pilots to deliver airplanes, but I no longer broker aircraft for sale. More
President Reagan's State of the Union speech on January 25, 1988
Ronald Reagan was known as "the great communicator", and this is an excellent example of his public speaking ability. You'll notice both sides of the aisle stand and applaud on several occasions, something seldom seen in recent years.

Updated 10:30 AM CDT
May 6, 2021
Refresh



From 2013:
All snakes will bite when threatened or surprised, but most will usually avoid people if possible and only bite as a last resort. Click to learn more.
More