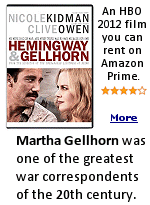 Martha Gellhorn reported on virtually every major world conflict that took place during her 60-year career. She was the third wife of American novelist Ernest Hemingway, the only one to ask him for a divorce.
More

Where are the airplanes for sale?
I still arrange for ferry pilots to deliver airplanes, but I no longer broker aircraft for sale. More
Tucker Carlson vs. United Airlines
United Airlines seems to be placing gender and racial quotas above safety and hiring the best person for the job.

Updated 10:45 AM CDT
Apri1 14, 2021
Refresh



From 2014:
While the world knows of the highly publicized situation in Missouri, few know about a similar situation in Utah with the colors reversed.
More