| | |
| --- | --- |
| | |



Today's Global Air Link






Thursday October 30, 2014 12:50 AM CDT Refresh



| | |
| --- | --- |
| | If you are interested in these flights, call me now at 763-389-9399. |
| | Do you have a flight resume' worked-up? email or fax it to 707-313-1283. |
| | |





Be notified of
new flights available

If our alerts arrive as "Spam", add robot@alert.changedetection.com to your email contact list
Edit Existing Alert





PILOTS:
Check Kayak to see if your airline privileges will get you to the trip origin, and home from the final destination.
CHECK FLIGHTS




Distance Between Cities

Airport Codes

Runway Finder




Low-time and no airline privileges? We don't mean to offend, but our clients want an experienced pilot flying their airplane, and don't want to buy airline tickets, when pilots with passes are available.



To help keep expenses and travel time down, we try to hire a ferry pilot reasonably close to the point of origin or the destination, or at least along the flight path. For example, we wouldn't normally hire a pilot from California to deliver a plane from Boston to Miami.






Greetings from .... (Where the heck is our motorhome parked today?)

I'm glad you found the Ferry Pilot posting page. But, I've discovered that at least one-third of my visitors come directly to this page and never explore the rest of my website. Make an old man happy, and before you leave, click here and see what else is here, including the planes I have for sale. Thanks!

FLIGHTS
FLIGHTS
Abbreviations
.
Posted:
Aircraft:
From:
To:
Map:
When:
Status:
Comment:
10/27/14
2005 Lear 45
Fort Lauderdale, Florida (KFLL)
São Paulo, Brazil (SBKP)
Mid-November
SCHEDULED
Type-Rated Pilot and Co-Pilot Needed / Client will be on trip to pay all expenses
10/11/14
Cessna 120 (Nav Com with Transponder and Encoder)
Oklahoma City, Oklahoma
Santa Monica, California
Map

1182 miles point-to-point
Ready Now
ON HOLD
Airline Privileges / Tailwheel Endorsement and Experience /
10/10/14
1971 Cessna 150L
Harrison, Arkansas (KHRO)
Leesburg, Florida (KLEE)
Map

831 miles point-to-point
Next Week
COMPLETED
Client will be riding along and needs the services of a CFI with airline privileges to give instruction. Difficulty: 540 lb. Useful Load. Client weighs 205, so CFI needs to be slim and trim.
10/05/14
1975 Commander 112
Huntley, IL (82IS)
Marietta, PA (N71)
Map

634 miles point-to-point
Within the Next Week
COMPLETED WITH PREFERRED PILOT
(What's That?)
AP / Good Total Time and Time in Type
10/02/14
1960 Aeronca Champ (Com Radio Only)
Fredericksburg, Virginia
Winnebago, Minnesota
(private grass strip)
(Shuttle to Minneapolis for trip home)
Map

946 miles point-to-point
Next Week
SCHEDULED
Good Total Time and Time in Type (Tailwheel Rating) / Airline Privileges or will consider a pilot without jumpseat if the delivery price is reasonable.
STUDENT PILOT SPECIAL 09/30/14
1975 Piper Cherokee 140 (VFR)
Enterprise, Alabama
Las Vegas, Nevada
Map

1710 miles point-to-point
Next Week
COMPLETED
STUDENT PILOT SPECIAL Client is a Certified Flight Instructor who is buying this plane. If a student pilot is willing to pay for the fuel, his own meals and motel, client will provide instruction all the way to Vegas, and will pay for a "buddy pass" back home.
09/24/14
2008 Jabiru LSA (with autopilot and Long Range Fuel)
Aurora, State Airport Oregon (UAO)
Manassas Regional Airport, Washington DC(HEF)
Map

2357 miles point-to-point
Within next week or two
COMPLETED
Jabiru Experience Essential / Airline Privileges and SFRA Certified a Plus /
09/04/14
Beech 58P Baron
Parral, Mexico (MM84)
Fly into Chihuahua where the client will meet you and drive to the Parral airport.
McAllen, Texas (MFE)
Map

462 miles point-to-point
End of September
SCHEDULED
AP / Mexican Flying and Border Crossing Experience / Time in Type / Client is arranging for a temporary N-number ferry permit.
08/21/14
1961 Cessna 182D (IFR with STEC 30 Autopilot)
Buckhannon, West Virginia (W22)
Blue, Arizona
Map

1649 miles point-to-point
September 15th
ON HOLD
AP / Good Total Time and Time in Type
05/14/14
(Confirmed on 08/15/14 that the client is still looking for a pilot)
Unspecified Single Engine IFR Aircraft
United States or Europe to United States
United States or Europe to United States
"This Summer"
AVAILABLE
Client wants to accompany an experienced Atlantic pilot (CFI) across the Atlantic to gain some IFR and Atlantic crossing experience. Will pay his own expenses plus $2,500 USD to the pilot. Please contact me if you are willing to take this person along on your next crossing.
Need an aircraft ferried? Or, are you a pilot who can handle one of these flights? Call me now at 763-389-9399.
Abbreviations:
TMM = Time in Make & Model
AP = Airline Privileges
IR = Instrument Rated
CE = Considerable Experience
(TMM, Total Time, Years)
CFI = Certified Flight Instructor
CWA = Client Will Accompany Pilot
OOA = Out Of Annual

---

Time-Builder Flights:
Some clients trying to save money will consider using a lower-time pilot wishing to build time. These flights generally are in smaller aircraft, like Cessna 150's, 172's, or Piper Cherokee 140's. The pilot is not paid (although we remind the client to tip at least $100 for a job well done) , but the expense of fuel, needed motel and meals, and necessary ground transportation are covered by the client. The pilot must get to the plane and home from the destination on his own, but the total cost to the pilot is often less than renting would have been for a cross-country adventure, and these flights are very popular.

How This Works

I am acting as an agent in this transaction, placing you in touch with a client needing an airplane ferried. I am paid by the client, generally $125 for single engine or light twin in the lower 48 states. Finding pilots for over-water or foreign trips is more, or if you require a CFI to accompany you, or an A&P mechanic to inspect the plane before ferrying it. Whatever arrangement you make with the client is between the two of you, and you agree that I am not responsible in anyway for the aircraft or the transaction. Be sure that I have a copy of your flight resume', so that I can provide information about you to the client and the insurance company covering the flight. You fly under the owner's policy.

It is the responsibility of the client to approve the pilot as qualified to fly the plane and make the deal, and to provide insurance coverage. It is your responsibility to deliver the plane and be paid directly by the client. You are not a Kamakazee, and you should expect the plane to be in airworthy condition. Out-of-Annual aircraft, with a ferry permit, are considered on a case-by-case basis.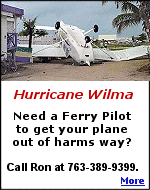 Generally, our veteran pilots with airline privileges charge $250 a day for light aircraft in the lower 48 states, sometimes more, plus all the expenses of the trip, including fuel, meals, motels, charts, and needed ground transportation. Lower-time pilots, or pilots without airline privileges need to charge accordingly to be competitive. Twin-engine and more complex aircraft generally command higher fees. Time is generally computed from the time you leave home, until you arrive back home. Clients need to get you to an airport for the trip home, and often tip for a job well done.



Clients sometimes ask us for pilots with CFI and CFI II experience, and they want to ride along to log required insurance time. Some ferry pilots charge extra for that service, others do not.



Some planes cruise at faster speeds and take more fuel, but use less motel, meals, and pilot time. Often, the plane is full of fuel at the beginning of the trip, courtesy of the seller, saving the buyer some cost, and pilots tned to fly longer into the evening during the Summer months, covering more distance per-day. Winter trips, on the other hand, tend to take longer and are more expensive. Also, VFR flights often require the purchase of charts, where IFR-equipped planes often have modern GPS equipment, saving that expense. If charts are necessary, we need to pass that expense on to the client, and quote "so much a day for the pilot, plus fuel and charts"... And, again, we remind the client of the custom to "tip the pilot" for good service. Some clients do, others don't.

All parties, including pilot, aircraft owner, and anyone else involved, agree that I am simply providing contact with pilots willing to ferry aircraft, do not warranty the qualifications or abilities of pilots presented, and am held harmless from all subsequent actions.