January 4, 2013
Ignoring Clint Eastwood's advice in "Dirty Harry" that opinions, like certain body parts, are best kept to yourself.
---
Your Obituary: A final whimper or last hurrah?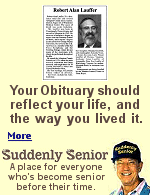 In the article "Was that you in the obits today?" at www.suddenlysenior.com, the writer encourages readers to write their own obituary, and be remembered the way they lived their life.

This morning I was checking the obits in my local newspaper online, and read about the passing of John Philip Errebo. I was attracted by the photo, one of Mr. Errebo in his WWII fighter trainer from 1945. Often I see a formal portrait, occasionally a 60 year old high school grad photo, and sometimes even a photo of a fellow with a beer and a cigarette, and maybe even holding up a fish. Of course, if that is how his friends and family remembered him, it may have been the best picture to use.

John Philip Errebo probably did not write his own obituary, but whoever it was, perhaps a caring family member, did an excellent job. Missing were the trite and customary "gone to be with his Lord and Savior", and similar, often with little or no mention of what was important to the deceased. Some might think Mr. Errebohe is shown as too human, he was married and divorced twice, and he liked to play cards for money, so what? Here was an obituary celebrating life at http://unioneagle.com,



John Errebo
By Princeton Union-Eagle on January 3, 2013 at 12:21 pm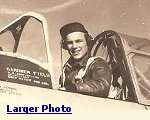 John Philip Errebo, 87, died Sunday, December 23, 2012, at Nathan Adelson Hospice in Las Vegas, Nev.. The only son of the late John and Myrtle Anderson Errebo, he was born September 17, 1925, in Denmark, Kan., in the native limestone house his grandfather built in 1902. At age six, Phil drove a horse-drawn seed tamper behind the corn planter. With his three sisters, he rode Salty, the big white horse, to school. He played football for the Lincoln High School Leopards.

World War II ended just as he finished fighter pilot training in the Army Air Corps. At Kansas State College, he studied engineering and belonged to Sigma Alpha Epsilon fraternity. While at K-State, he met and married Christina Haun in 1947, and they moved to Denmark, Kan. where Phil farmed with his father for nine years. In later years, Phil and Chrissy bought a farm near Center, Neb., and a ranch near Princeton. They raised a daughter and four sons. In 1974, they separated, and later divorced.

With his farming days behind him, Phil got into the oil and gas business. In Williston, N.D., he met and married Deborah Borrud. They moved to Kentucky and started a business, Erco. Their daughter, Jane, was born in 1988. They divorced in 1991.

Phil traveled the world for business and fun. From 1991 to 2001, he lived and worked in Colombia, South America. He flew his own plane and was always interested in aviation. In the last three years of his life, he lived in Las Vegas and played poker at the Orleans Casino every night.

Preceding him in death were: sisters Mary Helen Bateman, Bee Welling, and Marjorie Stone; son, Henry; and infant daughter, Ann Christina.

He is survived by: sons Jay (Fabiola), Peter, and Mark; daughters Nancy and Jane; granddaughters Ann Errebo (Jake Nyberg), Jo Ellen Errebo (Jeremy Arnold), and Cally Errebo; grandson Edward Errebo; and great grandchildren Kyle and Rylee Skachenko, Trent and Aaron Nyberg, Austin and Brayden Kammerer, and Logan and Tyler Arnold.

Funeral and burial with military honors were held January 3 at the Denmark Lutheran Church in Denmark, Kan.




Global Air Aviation Referral Service


---
I welcome intelligent responses, and will be glad to post them here. Email your remarks to ron@global-air.com
---
10/19/2015
Hi Ron, I just discovered your response to my father's obituary. Thank you so much. I wrote that obituary with the help of my brothers and nieces. My dad was quite the guy, and I wanted to make him come alive for the people who read the obituary. Thank you so much for recognizing my effort.
Nancy Errebo
---

Most Recent Editorial
Recent Global Air Links: