January 6, 2021
Ignoring Clint Eastwood's advice in "Dirty Harry" that opinions, like certain body parts, are best kept to yourself.
---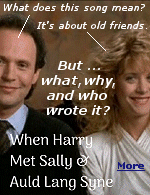 From the article:
Every New Year's Eve, after the champagne has been popped, the ball has dropped, and everyone is feeling very merry indeed, revelers queue up the same song they've been queuing up for decades. You know the one—it makes you cry, even though you don't understand it and know almost none of the words.

The song pops up everywhere, including the movies, one was the 1946 "It's a Wonderful Life". At the time, many people thought it had been written for the film, not realizing Scottish poet Robert Burns (1759 - 1796) was the source. When bandleader Guy Lombardo started to use it in his New Years Eve radio shows, popularity in this country really took off. In the 1989 classic "When Harry Met Sally" it helps bring the story together at the end when Harry realizes on New Year's Eve he can't live without Sally.

So, how much do you know about this Scottish national treasure?

People like me, those with lost loved ones, tend to get melancholy during the holidays, when we feel our loss even more than the regular daily ache. It is only natural, especially when other family members and friends are far away, if this is you, you are not alone. Lily the Pomeranian helps keep the conversation going around here, with me supplying both sides, and she is starting to sound a lot like Marge Simpson. The dog doesn't seem to mind, and it helps to make this place a little less lonely.

"YOU ABANDONED ME!!!" Sorry Lily, it took a little longer than I thought.

Movies become important, especially those that bring back memories. My wife and I had a few common favorites, including Harry and Sally. Somehow, those two reminded us of each other. While Hazel never faked anything in a restaurant ("I'll have what she's having"), she always ordered everything "on the side", just like Sally. I remember once, Hazel overdid it a bit, and the poor waitress was writing like crazy on her little pad. When it was my turn, I said to the lady,"I think I saw this in a movie", and she replied "So did I".

Most people might not think of that film as a holiday one, but I dig it out during the season and watch it again. The ending is pure Ron and Hazel. Harry realizes he can't live without Sally and rushes to find her at a New Years Eve party to tell her how he feels:

"I love that you get cold when it's 71 degrees out. I love that it takes you an hour and a half to order a sandwich. I love that you get a little crinkle above your nose when you're looking at me like I'm nuts. I love that after I spend the day with you, I can still smell your perfume on my clothes. And I love that you are the last person I want to talk to before I go to sleep at night. And it's not because I'm lonely, and it's not because it's New Year's Eve. I came here tonight because when you realize you want to spend the rest of your life with somebody, you want the rest of your life to start as soon as possible."

Queue the party crowd singing Auld Lang Syne.

(Sung by Sissel in both English and Swedish and done so beautifully it is ok for grown men and women to tear up a bit while listening. I sure do.)

Please visit my travel blog to learn more about my life on the road.





Global Air Aviation Referral Service


---
I welcome responses, and will be glad to post them here. Email your remarks to ron@global-air.com