February 14, 2013
Ignoring Clint Eastwood's advice in "Dirty Harry" that opinions, like certain body parts, are best kept to yourself.
---
A Romantic Valentine's Day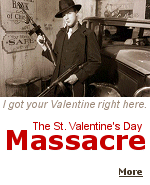 On Wednesday, I decided it would be entertaining to take Hazel up to Grand Casino Hinckley, about 60 miles from home in Princeton. I've been getting some regular mailings from the casino, and some recent ones offered a room for $13 bucks. So, I called to make a reservation, and they quoted me $159.95. "What happened to the $13 rooms?" I asked. "That was in January", the lady said, and so much for that great idea.

Then, I got to thinking, my son Jim also gets mailings from Grand Casino, and he's evidently got a lot more gambling points than I do, they've been offering him a free room. So, I had Jim call to check, and they did, indeed, offer him a free room.

So, Hazel, Jim, and I climbed into our two vehicles, and headed for the casino. Jim checked in, gave me the keys to the room, and the three of us went to the buffet for dinner, at about $19 bucks each, and I paid. Then, while Hazel went to the room to read, Jim and I tried our luck at the blackjack tables, and Jim won a few bucks. I, on the other hand, not so much.

After a couple hours of this, Jim drove home to Princeton to check on the pooches, and I headed for my free room.

This morning, I woke up to see Hazel sitting up in bed and watching Richard Burton and Elizabeth Taylor sharing a lip-lock in the movie "The Sandpiper" on the free big-screen television. I looked up at her and said loudly:

"KISS ME, YOU FOOL!" ( A line from the 1974 movie "Gold". My wife and kids think every word out of my mouth is a movie quote. )

Hazel didn't blink, her eyes never left the television screen, and she replied in a quiet voice:

"NOT RIGHT NOW."

So, how was your romantic Valentine's Day?





Global Air Aviation Referral Service


---
I welcome responses, and will be glad to post them here. Email your remarks to ron@global-air.com

Most Recent Editorial
Recent Global Air Links: