March 6, 2013
Ignoring Clint Eastwood's advice in "Dirty Harry" that opinions, like certain body parts, are best kept to yourself.
---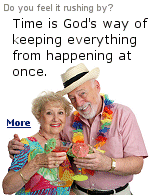 In the old days, when you retired, a common gift from your fellow workers, or the company, was a nice watch. Now that you didn't have to be somewhere every day, you had a fancier way of knowing the time.

Another popular gift item, a bit of a gag, was a clock that only showed the day of the week. Of the two, for a retired person, the day clock was probably a more practical gift. After all, a retired person has plenty of time, and nothing to remember to do, right? Maybe not.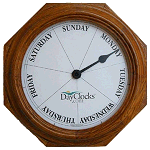 My wife will be 70 in August, I'll stay a young 69 until December, but when she clicks up a year each Summer, I suddenly feel older myself, and when December finally arrives, it seems that I'm already that age. Adding to the confusion, lately it seems that weeks are only about 4 days long.

Why does time speed up as we travel though our retirement years? When I was a kid in grade school, it seemed like the minute hand on the classroom clock would hardly move, especially when it was after 3 in the afternoon, and the teacher dismissed us at 3:15. I remember it was one of those clocks where the second hand moved with a tick, stopping at each second, why couldn't it go faster?

A friend of mine theorized that time seems slow to children, because each day is a big percentage of your total time on Earth, but when you get older, a day becomes a less significant part of the total, and zips on by.



"...tomorrow's just your future yesterday."
Late Night television host Craig Ferguson


On those rare occasions when I write a check, about once a month now, I sometimes struggle to figure out what month it is. A few weeks ago, I was at the bank, up at the teller window, and was writing a check for cash. I hesitated on the date line, my pen hovering over it, and my mind was racing ... What month was it, I thought. November? December? "It's February 13th", said the helpful teller, sensing my problem.

Our rural garbage pickup happens every other Monday, and I'm constantly forgetting to put the big rolling container out by the road, and only realize what day it is, when the truck goes roaring by without stopping. Why can't I keep track of that? Our local State Farm agent holds a safe driving for seniors class now and then, attending it will get me 10% off my insurance premium, but I forgot to go three times in a row. His secretary would call me a couple of days before to remind me, I fully intended to go, but realized a few days later that I'd forgotten again. Last month, with a reminder from the agent, and from my wife, I made it to the training session, and look forward to my new reduced insurance bill.

So, I started to feel better about remembering things, I bought a white board with an erasable marker for the refrigerator door, and started to write things down. It was working, I thought, finally, I'm organized.

I woke up a couple of weeks ago, looked at the clock, it was almost 8 AM. Out of bed I jumped, hit the button on the coffee maker, turned on the television, and settled in to watch "CBS Sunday Morning", a show I seldom miss, going back to the days when Charles Kuralt was the host. 8 AM came, I was on Channel 4, the CBS station, but another show started, it wasn't what I expected.

What was going on? I called back to my wife in the bedroom, "Hazel", "CBS Sunday Morning" isn't on, I wonder what's happening?"

Hazel walked in, looked me in the eyes, and said, "It's Tuesday".




Global Air Aviation Referral Service


---
I welcome responses, and will be glad to post them here. Email your remarks to ron@global-air.com

Most Recent Editorial
Recent Global Air Links: