March 6, 2019
Ignoring Clint Eastwood's advice in "Dirty Harry" that opinions, like certain body parts, are best kept to yourself.
---
The legendary Panasonic RF-2200 8-band radio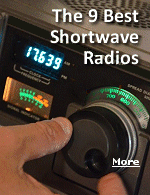 The legendary Panasonic RF-2200 8-band radio, referred to by many as "the Holy Grail" of shortwave portables, others say it's "the best AM/FM/Shortwave portable radio ever made…a DX-er's dream". (DXing is the art and science of listening to distant stations (D=distance X=xmitter or transmitter). I bought this radio back in the early 1980's as a Fathers Day or birthday gift for my dad, getting it back when he passed away. I think I paid around $100 for it new.

Size 12.6 x 7.6 x 4 inches 7.5 Lbs. Much bigger than the new digital portables that you can easily throw in your luggage and carry around as you travel, but for us older people, 'way smaller than the wood console floor models that our grandparents had in the living room, with push buttons labeled "London" or "Moscow", before the days of television. My grandmother had such a radio in the living room, and I remember my parents, aunts and uncles, sitting in there listening to news from distant places before they bought their first television set.

There are a few for sale on eBay in the $250 to $350 range, quite a lot for a 35 year old analog radio, but, if in good condition, worth every penny. Be sure to ask the seller about the telescoping antenna, if there is a weakness in portable radios it is the antenna that can be broken in rough use, and no replacements are available for this model. Be sure to treat it with care.

An interesting short video of someone using this radio.

In this YouTube video, you will see the user listen to CW (continuous wave) transmissions using Morse code, as well as listening to single sideband amateur radio transmissions (SSB), neither of which you can listen to on many modern digital shortwave receivers, as not all new radios have the "beat frequency oscillator" (BFO) needed to make those functions work. The more expensive ones usually do.

With Single Sideband, the carrier wave is used to "carry" the audio information to the AM receiver where it is detected and transformed back to an audio signal that we can hear representing the original information (voice) that was spoken into the microphone. Unlike AM transmissions, it is generally very sharp and clear and without static. Back in the 1950's, Air Force general Curtis LeMay, a ham radio operator, saw the benefit of such transmission quality, and put it to use in the bombers and fighter planes of the day.

Back 60 years ago or so, when I had my "ham" radio license, I used both CW and SSB on a regular basis, and when I hear those dots and dashes in old war movies, can still catch some of what they are transmitting, which usually is just random letters or something totally unrelated to the movie.

Going back even a bit further, I had an old tube tabletop radio from the 1930's that I used in 1957 to listen to the first Russian satellite "Sputnik" as it circled overhead sending out a continual "beep beep beep". Those commies got one over on us with that one, but it didn't take us long to catch-up.

The next time you're onboard our motorhome, you can check this radio out back in the captain's quarters, and listen to the latest news in English or the native tongue on Radio Moscow or Beijing, and to ham radio operators from around the globe, just like the old days.

A shortwave radio is a great gift for the man who has everything (Fathers Day and birthdays are coming, wives and kids), and there are a number of very good modern digital models, quite a bit smaller and lighter and more transportable than my Panasonic, that are for sale in the $100 to $200 or so range, but buy the best one you can afford, just like guitars, the cheap ones don't play as well. If you are interesting in listening to morse code or single sideband, be sure to pick a model that has that "BFO" or "SSB" feature.

Here Are Some Suggestions (click open)

Personally, I would go for the $205 Sangean ATS-909X. This radio has many features not found on cheaper models. Very seldom are you sorry you bought the best. Available online at Amazon and Walmart with free shipping.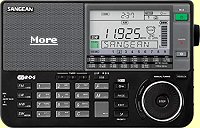 Finally, if you are really interested in knowing more about the Panasonic RF- 2200 shortwave radio, here is the Owner's Manual online. If you find one of these fine radios to buy, the manual is probably long-gone.


There, you young whipper-snappers, now you know what I know about shortwave radio. Go out there and get one.





Global Air Aviation Referral Service


---
I welcome responses, and will be glad to post them here. Email your remarks to ron@global-air.com