April 09, 2021
Ignoring Clint Eastwood's advice in "Dirty Harry" that opinions, like certain body parts, are best kept to yourself.
---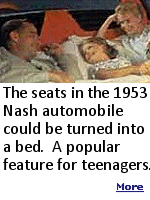 Twin Beds in 30 seconds! Both Nash front seat backs recline to fill space between front and rear seats, creating a roomy bed for hunters, fishermen—everyone who travels.

Life was a little simpler back in the 1950's, I graduated from high school in 1961, boys had ducktail haircuts, button-down shirts, charcoal and pink was all the rage, seams sewn on levi legs, and white buck shoes (wish I'd saved mine), thanks to the latest teen hero, Pat Boone. "April Love" was extended all year.

The girls had fuzzy sweaters, crinoline skirts, bobbysocks, and gum. I remember a lot of chewing gum. In our school, there was this one girl who was rumored to be "loose", but nobody actually knew for sure. "Candy" came to school every day with the bleach blonde hair, fuzzy filled-out sweater, short skirt with bobby socks, and gum. Another, the guys would joke, had the nerve to call herself "Virginia", but again, nobody knew for sure.

---
A bed in 30 seconds! Both Nash front seat backs reclined to fill space between front and rear seats, creating a bed. Teenagers loved them.
---
With bench front seats in all the cars, you could easily identify the couples "going steady", the girl would be right over next to the driver. Later, those new bucket seats ruined all of that.

On Saturday night, with only one AM radio station within range, cruising the main street was so cool to watch and be involved in, with every car radio tuned to the same station. The latest rock n' roll song would get the doppler effect as dozens of cars went up and down the main street of town, everyone listening to the same song. Gasoline was 20¢ a gallon, cheeseburgers were 15¢, a kid could have a good time on Saturday night for a buck.

I had a friend with a Nash Rambler automobile, the company offered that "makes into a bed in 30 seconds" option for several years. He told me one day that he'd finally lined up a date with this really good looking girl, all the guys were after her, and he drove over to pick her up.

Bad timing, the mother had just watched a Nash Rambler commercial on television, with a happy family sleeping in their car at Yellowstone Park. She Looked out the picture window (having a "picture window" then was the latest thing) and saw my friend pull into the driveway. No way was she going to let her daughter go out with a guy who, as she said, "has a car that makes into a bed!".

Please visit my travel blog to learn more about my life on the road.





Global Air Aviation Referral Service


---
I welcome responses, and will be glad to post them here. Email your remarks to ron@global-air.com