April 11, 2023
Ignoring Clint Eastwood's advice in "Dirty Harry" that opinions, like certain body parts, are best kept to yourself.
---
Buttigieg to Tackle 'Racist Traffic Enforcement'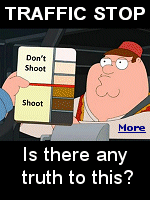 From the article to the left:
The elephant in the room, the fundamental to which we must never refer, is propensity toward criminality. It is simply a fact that blacks, and particularly young black men, engage in lawless conduct, very much including violent conduct, at rates (by percentage of population) significantly higher than do other racial or ethnic groups.

A new article appeared in my email today:

Black Democrats called for Transportation Secretary Pete Buttigieg to do something about the scourge of "racist traffic enforcement," demanding that the nation's top infrastructure official address their concerns over actual problems including train derailments, supply chain issues, ongoing troubles with the nation's air travel system and decaying highways, roads and bridges, yet another example of how the leftist party sees virtually everything through the prism of race.

This was authored by a fellow named Chris Donaldson, published in the BizPacReview.

What the Black Caucus really knows, or should, is that "racially motivated traffic stops", if they are the fault of anyone, rest with the driver, not the police officer pulling them over. In a country where 13% of the population commits over 50% of the crimes, anyone who says "something is wrong" is right, but maybe for the wrong reason.

"Mayor Pete" isn't over his really good pay grade here, but is probably beyond his abilities. Don't believe me, ask anyone in Washington. This is the guy who complained that "low overhead bridges on the way to the beach discriminate against minorities riding a bus."

That was an overhead bridge too far.

Please visit my travel blog to learn more about my life on the road.





Global Air Aviation Referral Service


---
I welcome responses, and will be glad to post them here. Email your remarks to ron@global-air.com