April 13, 2010
Ignoring Clint Eastwood's advice in "Dirty Harry" that opinions, like certain body parts, are best kept to yourself.
---
If Only There Was a Word to Describe This Fellow
CONFIDENTIAL
Seller Section
---
Updated List of
Buyers to Avoid






Checking my email late last evening, I had this one:


Hi, This is the second time I have asked about this aircraft via e-mail. I will not ask again. Is this plane located in Iowa? I would like to inspect it. I am interested. Don't know which aircraft I am referring to? Hey, ask and write back. You have my e-mail address. If it is still in Iowa, please clue me in as to how YOU would like me to inspect this aircraft and make an offer. The "N" number is vividly displayed in the pictures. A simple inquiry of the FAA "N" number is enough to reference the owner. No response from you will clue me in as to the value of your services for me and the person selling this aircraft. I won't e-mail again.


Wow, did I miss his first email? This guy is really upset.
So, I sent him this response:


Sorry, this is the first time I've heard from you. Perhaps your first email went into my spam file. Please call me at 763-389-9399 to discuss this plane, and I will be glad to arrange for you to inspect it.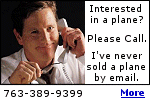 Regards,
Ron Howes
Global Air Referral Service


A few minutes later, even though he said he wouldn't email again, I received a new message:


Ron, I am tired. It is late for me. I did not ask for your phone number. I asked if this aircraft was located in Iowa. I asked specific questions. Calling your phone number was not one of the questions. I respect your position earning a commission based on sales. I do not know if my first e-mail went to your spam filter or not. I do know I received no reply. It is important for you to understand that I will respond to you when you actually respond to my questions and awknowledge my questions. This will have much to do with how business flows. So, once again: Is this plane located in Iowa. WHERE is it located in Iowa? Until I receive a response I have no intentions of calling you. Need I explain further?


Clearly I have to deal with this, and my first obligation is to my client, the owner of the plane in Iowa. When I take a listing to sell, I tell the owner that I do everything I can to eliminate the bottom-feeders and low-ballers, and only present buyers who I feel are qualified prospects. I show the tail numbers of the airplanes, and some buyers do try to make direct contact with the seller, thinking somehow they are going to save my commission (they don't), but I try to avoid that situation. Sellers rely on me, and pay me, to handle the pricing, as most prefer not to get involved in negotiations, especially with an overbearing buyer attempting to wear-down the seller on the price. This is obviously one of those situations, so my first call will be to the seller to alert him of this situation, and ask him to refer any calls back to me.

After 35 years in the banking business, and a dozen years brokering airplanes, I thought I'd encountered every situation, but evidently not. I'm inclined to not respond further, and hope this fellow gets the hint. What would you do?

Oh, the "List of Buyers to Avoid" above is a gag, there is no "Confidential Seller Section", but whenever I run this thing on my website, I'm always amazed at how many people email me for their "password". If there is a list, it is a verbal one with dealers and brokers, as we gossip on the phone like little old ladies.





Global Air Aviation Referral Service


---
I welcome responses, and will be glad to post them here. Email your remarks to ron@global-air.com
---
I just had a customer you can add to your list. After getting copies of the last 3 annuals and about 18 photos, he got upset when I wouldn't take more pictures, ( how many do you need? ) and used that as an excuse to get mad and go away.
- Friendly Competitor
---

Most Recent Editorial
Recent Global Air Links: