April 14, 2016
Ignoring Clint Eastwood's advice in "Dirty Harry" that opinions, like certain body parts, are best kept to yourself.
---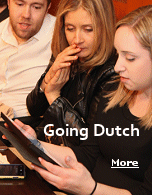 Recently, New York mayor Bill de Blasio and Democratic front-runner Hillary Clinton were criticized for something said at a charity dinner. Hillary was thanking Bill for his belated endorsement of her campaign, saying "it took you long enough", to which de Blasio responded "Sorry Hillary, I was running on C.P. time". The phrase "colored people time" is a reference to the fact that African-Americans are notoriously late for appointments.

Blasio should have known that the African American community lies in wait for the next opportunity to be offended. Being offended is a rush better than drugs, giving empowerment to take immediate charge of the situation. The time had arrived, and everyone else was going to be at a big disadvantage.

Let's all just take a moment and lighten up, ok? Hey, another opportunity to be offended, "lighten up", which has nothing to do with color. Coming from Minnesota, nobody laughs louder at "Ole and Lena" jokes than Norwegians and Swedes. Newfoundlanders, like my wife, take the good natured remarks about how they are "a half hour late to everything" in stride because, well, they are a half hour late to everything.

Forty years from now, when my wife passes away at the age of 113 while mountain biking, the obituary will say that the funeral will be at 10 AM, that's 10:30 Newfoundland.

A year or two ago, I had lunch with an old friend. When the waiter came over to our table, my friend said, "separate checks please, we're going dutch". Well I was outraged, I didn't say anything, but suddenly I was offended on behalf of all those fine people of Holland, whose only fault is a reputation for thriftiness.

Dutch Treat indeed, and I was looking forward to a free meal. Besides, I bought last time.




Global Air Aviation Referral Service


---
I welcome responses, and will be glad to post them here. Email your remarks to ron@global-air.com

Most Recent Editorial
Recent Global Air Links: