April 18, 2022
Ignoring Clint Eastwood's advice in "Dirty Harry" that opinions, like certain body parts, are best kept to yourself.
---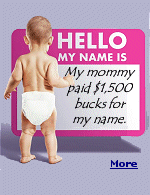 "What's in a name? That which we call a rose by any other name would smell as sweet."
Romeo and Juliet - Act 2 Scene 2

Socrates said ''Regard your good name as the richest jewel you can possibly be possessed of''. But how can you be sure the name you choose for your child is good in the first place? There are experts for that, like Taylor Humphrey, a professional baby namer.

In our family, finding the right name for each child was a challenge, my wife always wanted to wait until she saw the little tyke to see if he or she looked like the names she liked. On one occasion, the hospital threatened to keep us there until we came up with one. Our first one was born on my dad's birthday, so naming the little guy after his grandfather was an easy decision, and when the little guy was old enough to travel and smile at strangers, my dad, president of a small town bank, took him around and introduced him to all the bank employees, "Meet Glenn Howes", he would say, with a big smile on his face. So proud, a great memory.

Other names were tougher to come up with, but we managed, naming them after saints or departed relatives. I only remember one time when I vetoed my wife, she wanted to name our oldest daughter "Mary". "No way", I said, "she looks like an Anne". Somewhere along the line, it became "Annie" to this day.

My youngest daughter is thinking about a baby in her future, and asked me my opinion (a rare event, let me tell you) about names. Well, with her Irish last name of "O'Quinn", for me that was easy. "If it's a boy, name it Shamus", I said, "I always liked that one". No, she wasn't sure about that one. "Ok, how about "Darby O'Gill, I really liked that movie, with all those little people and all". I was shot down on both. I just hope she comes up with a name for free, $1,500 for a consultant seems a bit steep to me, I'd have only charged her $500 bucks.

I'm sending you this from my motorhome in Hot Springs National Park this morning, a beautiful morning view out the windshield from my office on the passenger side dashboard. I'll be back at the Minnesota lake cabin, a thousand miles North, as soon as I hear the snow is gone.

Please visit my travel blog to learn more about my life on the road.





Global Air Aviation Referral Service


---
I welcome responses, and will be glad to post them here. Email your remarks to ron@global-air.com