April 20, 2021
Ignoring Clint Eastwood's advice in "Dirty Harry" that opinions, like certain body parts, are best kept to yourself.
---
Walter Mondale 1928 - 2021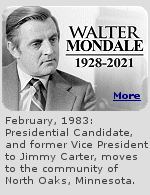 Today, newspapers and electronic mainstream media are carrying the story of the death of 93 year old former Vice President Walter Mondale, but here is a story that you probably won't see elsewhere, sent to me by my daughter, a resident of North Oaks, Minnesota.

Back in 1983, this was a big deal for the gated community, "Fritz", as he was known to friends, was a likeable Minnesota native. I met him twice, once back in the mid-1960's on an early Saturday morning in front of a grocery store, where he was handing out his election brochures and campaigning for office. It was still pretty early, and I had a chance to spend a couple of minutes with him. He was one of those fellows you would like instantly.

---
1984: Tiny North Oaks, Minnesota Survives Mondale Invasion
Only an occasional motorcade or a van of reporters glided up or down the streets of the lake-and-tree-covered subdivision of North Oaks, Minnesota. The suburb is so preoccupied with security that the entire 5,100-acre subdivision is private property. Even the streets are owned by a property owners association, with signs warning that all except residents are trespassers.
---
Several years later, as Vice President, he loved to fly Air Force Two up to International Falls on summer fishing trips. I was vice president of the local bank, and before he started doing that the local airport was just a typical small town one. The men's room had just one faucet on the sink, cold water, and for some reason, it was painted red. After Mondale started showing up, so did a lot of government money to make the place one of the finest small town airports in America.

About lunchtime one summer day, I got a call from my friend Dave at the newspaper, "Ron, Mondale's going to be at the Holiday Inn, let's go over there for lunch." So we did, walked right in the place, no security, and waited in the lobby for a couple of minutes. Then, a side door opened, and there he was, accompanied by four or five Secret Service agents, and he started shaking hands with everyone as he made his way to a private dining room. Everyone included Dave and me.

Fritz was up for one of his fishing trips, those Secret Service guys always came to town a few days early to check things out, including the local characters. Strange, they never talked to me. Wearing suits, dark glasses, and whispering into their cufflinks, they blended right in, where the only other people in town wearing a necktie worked at the bank or a law office.

I remember Dave and I tried to guess just how much those walleyes were costing the taxpayers. Whatever we came up with, it was a big number. I complain now when the Minnesota reservation Native Americans sell them at local grocery stores for $17 a pound. But i have to admit, that if you've ever had a good walleye dinner, it is worth all of that.

Good memories from good times.

Please visit my travel blog to learn more about my life on the road.





Global Air Aviation Referral Service


---
I welcome responses, and will be glad to post them here. Email your remarks to ron@global-air.com