May 5, 2020
Ignoring Clint Eastwood's advice in "Dirty Harry" that opinions, like certain body parts, are best kept to yourself.
---
Goodies From RV Park Laundry Rooms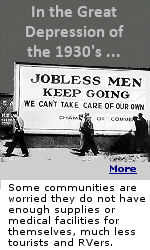 My wife and I were on the road for several months a year for about 10 years, even putting the motorhome on the ferry from Nova Scotia to Newfoundland a couple of times, we went almost everywhere. Except Texas. Hazel never wanted to go to Texas, and I asked her one day why that was. "Well", she said "Texas has capital punishment". "What the heck are you planning to do?" I asked. She just smiled.

It didn't take me long to figure out that if you have something in your RV that you aren't using, and it is too good to just throw away, if you leave it the RV park laundry room, somebody else will grab it. I've found some great items over the years, and have left a lot of things I no longer needed.

A few years ago down in Florida, I decided my bathroom scale was too big the the RV bathroom, Hazel never used it, and I would only step it about once a year, being the physically fit person I am, I was heading to the laundry room with the hamper, and decided to take the scale along. I loaded up the washing machine, threw in my quarters, and put the scale up on the counter next to a stack of paperback romance novels some else left there.

When I returned to throw the load in the dryer, there were three women in there doing laundry, my scale was on the floor, and one of the women was standing on it. A few days later, returned with more laundry, the paperback books were gone, some new items were there, and my scale was still on the floor. I'll bet it's still there.

Over the years, I've picked up some really nice items from those "free for the taking" piles, including some RV travel guides, kitchen utensils, and even a few new unwrapped bars of soap, I guess somebody didn't like the brand the husband brought home.

But, the treasure trove was in the Morro Bay, California RV park, with new items appearing almost daily, and I started to check it out as walked the dog, coming back to my motorhome carrying unbelievable finds. One day it was an absolutely like new Black & Decker toaster oven, I plugged it in, it worked perfectly, and now has a place of honor in the kitchen at the Minnesota lake cabin. As does, a complete set of non-stick pots and pans, complete with glass lids, that look like they've never been used.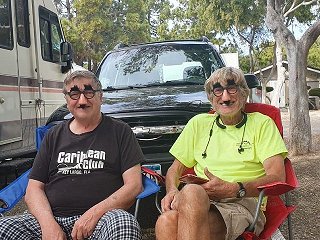 One day, there were some really nice kitchen knives, including a couple of those new ceramic ones, and the next day, a bag of gag party items, including a couple pair of "Groucho Marx" eye glasses, that my friend Steve Weaver and I put right to use.

Then, for a few days, nothing, nada, maybe this casting away of unused items was seasonal, I checked the calendar.

But then, the grand event, something a patron of RV laundry rooms only dreams about, the golden nugget, something that immediately comes with bragging rights. There it was, and I recognized it immediately. By sheer coincidence I'd seen it on an old "Tonight" television show on YouTube just a few nights before.

As in a dream, I saw my hand reaching out and grabbing it, it was mine, something all RV's should have, a golf course.



Please visit my travel blog to learn more about my life on the road.





Global Air Aviation Referral Service


---
I welcome responses, and will be glad to post them here. Email your remarks to ron@global-air.com