May 5, 2021
Ignoring Clint Eastwood's advice in "Dirty Harry" that opinions, like certain body parts, are best kept to yourself.
---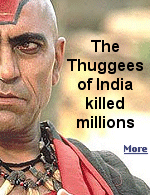 "That's part of your problem, you haven't seen enough movies. All of life's riddles are answered in the movies."
- Steve Martin in "Grand Canyon" 1991

Portrayed in movies like ''Indiana Jones'' and ''Gunga Din'', the Thuggees killed millions of unsuspecting travelers in India as a tribute to their goddess Kali.

An interesting thing about the "Indiana Jones" movies, they are based on a lot of fact. Hitler really was obsessed with the occult, and ancient stories, like the Arch of the Covenant, and those ideas were woven into Steven Spielberg's films. Movie fans probably thought the Thuggees of India were fictional in "Indiana Jones and the Temple of Doom", but they were very real. A 2007 article by Christopher Putnam tells the story.

From the article:



Their extreme secrecy combined with their mastery of murder made the Thugs the deadliest secret society in all of history. In the early 19th century they were credited with 40,000 deaths annually, stretching back as far as anyone cared to count. Some estimates put the overall death toll as high as 2 million, but with the cult potentially operating for more than 500 years before formal records were kept, the true number is impossible to determine.

At its root, the word "Thuggee" means "deceivers," and this name hints at the methods employed by the cult. Bands of Thugs traveled across the country posing as pilgrims, merchants, soldiers, or even royalty, in groups numbering anywhere from a few men to several hundred. Offering protection or company, they would befriend fellow travelers and slowly build their confidence along the road.

Often the impostors would journey for days and hundreds of miles with their intended victims, patiently waiting for an opportunity to strike. When the time was right, typically while their targets were encamped and at their most relaxed, a signal would be given — reportedly "Bring the tobacco" — and the Thugs would spring.

My family and friends know how much I like movies, my youngest daughter once wrote a stage play about a disfunctional family with VHS and DVD movies stacked all over the house, and everything the father said was a quote from a movie.

To which I replied to her, after reading it, "Frankly my dear, I don't give a damn."

Please visit my travel blog to learn more about my life on the road.





Global Air Aviation Referral Service


---
I welcome responses, and will be glad to post them here. Email your remarks to ron@global-air.com