May 24, 2023
Ignoring Clint Eastwood's advice in "Dirty Harry" that opinions, like certain body parts, are best kept to yourself.
---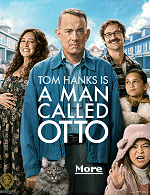 From the article to the left:
Portrayed by Tom Hanks, a grieving widower, Otto is often right about his grievances. Why should he pay for six feet of rope and waste a few extra cents when he bought just five? Why shouldn't he warn inconsiderate drivers who often block garage doors or entitled neighbors who can't remember to close a gate and respect basic rules about trash disposal?

Last week I got around to watching "A man called Otto" on Netflix, starring Tom Hanks in the title role. I'd hesitated to do this, saw it listed several times as a recommended movie, but the story of a widower who is going through a terrible time after the death of his wife from cancer was, I felt, a little too close to home. My wife of 53 years died of cancer in 2019.

I nerved up a bit and turned it on. Hanks did an amazing job, I thought, playing a sour and lonely man who had lost everything. The film opens with a warning to the audience about about scenes that depict attempted suicides, there were 5 or 6, all failed. New neighbors, a feral cat that more or less adopts Otto, and other opportunities for Hanks to realize he needed to keep living.

One line struck me hard when he told his lady neighbor, talking about his deceased wife: "There was nothing before her, and there's nothing after ..."

I urge you to see this film, where character development grows until the end. If you are a widow or widower, as I am, you might see reflections of yourself.

Please visit my travel blog to learn more about my life on the road.





Global Air Aviation Referral Service


---
I welcome responses, and will be glad to post them here. Email your remarks to ron@global-air.com