June 4, 2023
Ignoring Clint Eastwood's advice in "Dirty Harry" that opinions, like certain body parts, are best kept to yourself.
---
Keep Kids Away From Gay Pride Month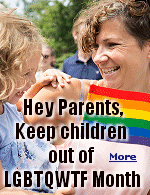 From the article to the left:
Brace yourselves for endless rainbow profile pictures and viral Twitter videos of gender-ambiguous people twerking in the streets with little to no clothing. You'd think adults would want to keep children far, far away from these displays of cultural degeneracy, but the opposite seems to be true: Sexually charged children's pride activities are popping up all over the country.

"Gay Pride Month", pride is an interesting word. I remember reading an obituary a few years ago that included "Fred was proud of the fact that he'd never ridden in an airplane". Really, Fred?

The Bible mentions (and everybody knows how religious I am) "pride" several times, the line from Proverbs 16:18-19 "pride goes before destruction, a haughty spirit before a fall" has been mis-remembered and boiled-down to "pride cometh before the fall".

What the heck are we going to be proud of next?

Please visit my travel blog to learn more about my life on the road.





Global Air Aviation Referral Service


---
I welcome responses, and will be glad to post them here. Email your remarks to ron@global-air.com