June 8, 2008
Ignoring Clint Eastwood's advice in "Dirty Harry" that opinions, like certain body parts, are best kept to yourself.
---
Getting Married with a Hundred Bucks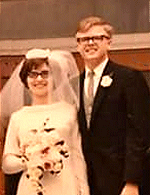 June, 1966 in Minnesota. Hazel Ehrnreiter was working at the First National Bank of Anoka, I was a bank examiner for what is now U.S. Bank, and we were about to get hitched. At age 22, neither of us had much money, but we weren't going to wait for prosperity to kick-in. When you are young and in love, sometimes money isn't a factor in the decision-making process.

Hazel had a local woman sew her dress for $75, flowers would be about $100, tux rental was $11, and everyone in the wedding party paid their own expenses for dresses and tux rental. Catering the wedding lunch in the Catholic school basement would be covered by Hazel's dad, at an agreed upon cost of $1.25 a head. The license was $8 bucks. I had a couple hundred in the bank, and Hazel said she had her expenses covered, but two days before the wedding, she announced that she didn't have enough left to pay the florist. So, I went down the flower shop in Anoka to take care of things. This was a hundred out of my two hundred.

The florist was happy to take my money, but asked about the "bouquet for Mary's altar". It seems Hazel hadn't ordered that, and he reminded me that no Catholic wedding was complete without a bouquet for Mary's altar. "How much?" I asked. "$12.50", he replied. I was down to $87.50 and things were starting to get serious.

Sheraton had just opened a new luxury hotel in downtown Minneapolis, and I'd reserved the bridal suite. $35 bucks, and it included breakfast in bed and a bottle of champagne. It was time to re-consider my expenses. Maybe we could just head up North, straight to Lake Superior, and save that money.

I called and cancelled, a decision I've regretted since, only guessing at what the current rate might be. But, this was 1966, and Visa and MasterCard hadn't made an appearance yet. Back then, you actually had to have money to buy something. Banks thought financing weddings was pretty risky, even banks you worked for, and you knew better than to ask parents for financial help. These folks grew-up in the depression, and expected more from you than that.

The big day was approaching, June 25, 1966, the 90th anniversary of Custer's Last Stand. The night before, I filled-up my 1960 Ford on the way to the wedding rehearsal, paying a whopping 17.9¢ a gallon. (There was a gas price-war going on in Anoka that week.) After the rehearsal, my folks paid for a groom's dinner at a local restaurant. As I recall, it cost dad about $3 plus a tip for each of the 30 people there. More than the $1.25 Hazel's dad would be shelling-out tomorrow for the wedding lunch, but this was a restaurant, not a school basement.

The wedding was great, it was warm and sunny in Anoka, Minnesota that Saturday, the church was full of people, and Hazel was a beautiful bride. Hazel still thinks her $1.25 a head wedding reception was the best one ever, and I guess I have to agree with her. My brother took the photos as his wedding gift, and did a great job of it.

Everything was perfect, but I was starting married life with $52.50 and a full tank of gas. The North Shore of Lake Superior was a couple hundred miles away, with $7 motels and $3 restaurants waiting. I grabbed the gift envelope box from the wedding gift table on the way out the door, and the total of the checks and cash inside was $47.50, bringing my resources to exactly $100. I had it made.

Waiving goodbye to everyone, we headed North.




Global Air Aviation Referral Service


---
I welcome responses, and will be glad to post them here. Email your remarks to ron@global-air.com
---
I smiled from start to finish as I read this. It fills me with nostalgia and is so refreshing! Jeanette C. - Minnesota
---

Most Recent Editorial
Recent Global Air Links: