June 13, 2022
Ignoring Clint Eastwood's advice in "Dirty Harry" that opinions, like certain body parts, are best kept to yourself.
---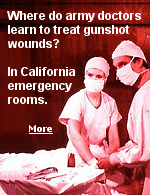 The story to the left: The Army, in an effort to ready young surgeons to treat war casualties, is sending doctors to work in the trauma unit at Martin Luther King Jr./Drew Medical Center in Watts, which receives most of Los Angeles County's gang shooting victims. More

---
Recently, I was called by someone at the Eagle Scout Association, they were putting together a book and wanted some input from me, asking what it was that I learned as an Eagle Scout that stuck with me as I traveled through life. I told the lady that the Scout motto "Be Prepared" was it in a nutshell.

A year or so ago, I started to put together a first aid kit for the motorhome. Traveling alone, often in wilderness areas, I felt I needed a good one, and even purchased a gunshot trauma kit, something often carried by gun enthusiasts when they go to the shooting range. You just never know when something might happen.

Last year, I was camped in the same remote area where Gabby Petito was murdered. I was letting friends and family know where I was with my "Spot-X" satellite locator, when I would arrive at a new location for the night, often just a Walmart parking lot, I would hit the button to send a canned message to the family that I was in camp for the night and everything was ok. That message included my GPS location and clicking it would bring up a satellite photo of exactly where I was.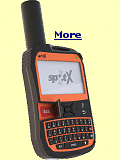 If I run into a life-threatening situation I could call in the calvary by pressing the "SOS" button. A $25 a year insurance policy covers the cost of extraction, getting my beat-up body back to civilization, paying up $250,000 for whatever it takes to do the job. A friend of mine recently had to be transported 120 miles by air ambulance, he said it was $44,000 and fortunately was covered by his insurance.

Recently, I took inventory of what I had in two small red duffles, and realized that I needed to be a lot more organized. I couldn't wait until an emergency arose to figure out what I had. That's when the light bulb over my head went on with the idea to buy a fishing tackle box to organize all of these things. It couldn't be a regular one, like my 40 year old green one, it would have to look like a first aid kit, readily recognized by anyone, it had to be "red". I found the perfect one for sale at "Farm and Home Supply" in Quincy, Illinois. I ordered, and it arrived last week. Yesterday, I got to work organizing:

The green "First Aid" sticker came from Amazon. Now, all I need is an emergency. And a life.

Please visit my travel blog to learn more about my life on the road.





Global Air Aviation Referral Service


---
I welcome responses, and will be glad to post them here. Email your remarks to ron@global-air.com