July 16, 2012
Ignoring Clint Eastwood's advice in "Dirty Harry" that opinions, like certain body parts, are best kept to yourself.
---
Retiring Vicariously with Rick and Orinda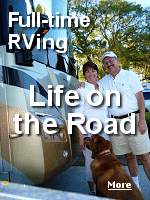 My wife and I are working on being full-time RVers, and have done a fairly good job of it, putting 20,000 miles on our motorhome in the past 18 months, but we can only read with awe at what this couple are doing.

A few months ago, I happened on the travel blog of two retired teachers, Rick and Orinda, who started out with a pop-up camper, and now travel the country in a top-of-the-line Winnebago 42' Tour motorhome. We're talking slide-outs, big screen televisions, washer,dryer, and dishwasher, imagine that. Not only do these folks travel to great places, but they write about it nearly every day, with photos to show readers what the Golden Years could be like, if they do a good job planning for it.

I couldn't explain it better than Rick and Orinda do on their travel blog Fulltime RVing With Rick and Orinda.

Check it out, and start saving your money.




Global Air Aviation Referral Service


---
I welcome responses, and will be glad to post them here. Email your remarks to ron@global-air.com

Most Recent Editorial
Recent Global Air Links: