July 16, 2014
Ignoring Clint Eastwood's advice in "Dirty Harry" that opinions, like certain body parts, are best kept to yourself.
---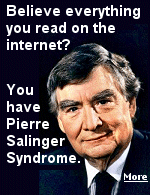 Recently, Joan Rivers startled a bunch of people during a televised interview, by saying our president was gay, and the first lady was a transsexual. The 81 year old comedienne didn't seem to be joking, and later, when asked, refused to apologize for her remarks. "Everybody knows", she said.

Controversy isn't something new for Ms. Rivers, a few years ago she got into some trouble with a joke in her comedy routine, "We used to have Jackie O, now we have Blackie O!". But, this new quote that suggests we have a same sex couple living in the White House is on a completely different level.

How much validity was mainstream media giving to this story? I decided to check it out, but not wanting NSA or KGB to think I was a complete nut, I clicked open "private browsing" and went to the "duckduckgo" search engine to leave no trail of my research. The "duck" people say they don't keep search records, but I have a feeling those 18 year-old computer nerds being hired by NSA are figuring that one out.

As I suspected, a search for "Joan Rivers + Michelle Obama" didn't show any articles by the mainstream alphabet news services (ABC, CBS, CNN, FOX, NBC), but dozens of articles on news sites and blogs I'd never heard of. And videos, lots of videos, that were, to put it politely, very amateurish productions showing little or no proof that Michelle was actually a man. Some claimed Michelle had been born "Michael" and played football in high school, evidently at one without yearbooks. Any proof shown was a real stretch.

"Look, at her hands, you can see by the length of her ring finger that she's a man, and look at those muscles!"

A few years ago, former White House press secretary Pierre Salinger was convinced by articles he read on the internet that TWA flight 800 was accidently shot down in 1996 by our own Navy. After an hour that I'll never get back, I came to the conclusion that Joan Rivers and Pierre Salinger have a lot in common.




Global Air Aviation Referral Service


---
I welcome responses, and will be glad to post them here. Email your remarks to ron@global-air.com

Most Recent Editorial
Recent Global Air Links: