July 29, 2022
Ignoring Clint Eastwood's advice in "Dirty Harry" that opinions, like certain body parts, are best kept to yourself.
---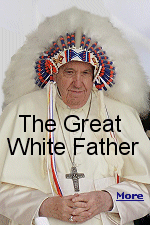 Pope Francis apologized to Canada's native people on their land for the Church's role in schools where indigenous children were abused, branding forced cultural assimilation a ''deplorable evil'' and ''disastrous error.'' More

Pope Francis has some who are critical of what he does sometimes, but not in our family. When my son Tom and his family were living in Vatican City while he completed his PhD in Philosophy, my little granddaughter Audrey got sick and had to be put in the Vatican Children's Hospital. Tom had been studying in Rome for several years and got to know a lot of people there. But when the Pope walked into the hospital room to check on little Audrey it was a real shock.

Audrey looked up to see the Pope coming through the door and exclaimed "Papa Francisco!" (She was getting pretty good at Italian at age 4). This photo and the story was on the evening news in Rome and in the Vatican newspaper. Tom says it is still a bit surreal thinking about it. Audrey is now 9, and the stuffed animal the Pontiff gave her is a prized possession.


Some people are criticizing the Pope for wearing the Indian headdress given to him by the local tribe as a sign of respect. Some people should perhaps lighten-up a bit. It was standing room only when Francis held Mass at a local outdoor arena, with preferential seating for all the indigenous people of the area.

This was on my website a couple of weeks ago: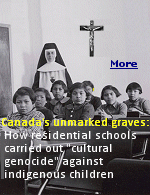 Starting in the 1880's and for much of the 20th century, more than 150,000 children from hundreds of indigenous communities across Canada were forcibly taken from their parents by the government and sent to what were called Residential Schools. Funded by the state and run by churches, they were designed to assimilate and Christianize indigenous children by ripping them from their parents, their culture, and their community. More

A lot of our politicians could take a few lessons from "The Great White Father", a term our own American Indians used to refer to the President of the United States.

Please visit my travel blog to learn more about my life on the road.





Global Air Aviation Referral Service


---
I welcome responses, and will be glad to post them here. Email your remarks to ron@global-air.com