August 2, 2009
Ignoring Clint Eastwood's advice in "Dirty Harry" that opinions, like certain body parts, are best kept to yourself.
---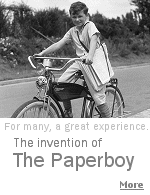 I was a paperboy in the 1950's, and 35¢ paid for a week of delivery, including Saturday and Sunday. I collected every week, making about 7¢ on each customer, and every Wednesday night, summer or winter, I had to go around to all of the houses and ring the door bell. I can still say " Collect 35¢ " in my sleep, as I stood in those doorways waiting while they came up with the money.

In the winter, my glasses would fog over, and I'd have them off, holding them in my mouth by the earpiece, as I tore out the little coupon from my collecting book, their proof that they'd paid. Some customers wouldn't answer the door -- they didn't have the 35¢.

Thinking about the winter, in Minnesota your bicycle spent that part of the year hanging in the garage, and the route had to be covered by foot. This was before they invented warm Sorel boots, or at least I didn't know about them, and my non-insulated black rubber galloshes over my shoes were all that separated my feet from the deep Minnesota snow. More than once, I remember coming home with feet that seemed like blocks of ice, so cold I cried.

I had to settle my bill at the newspaper every Saturday morning, and of the $14 or so that I'd collect, I'd pay about $11 for the papers, leaving me with a $3 profit for maybe 10 hours work each week. That was big money, and most of it went into my savings account. I was still getting my 25¢ a week allowance from my dad, on the condition that I'd save most of what I made with the paper route. Back then, I could go to the movies on Sunday for a dime, popcorn was a nickel, life was good.

I remember once, I had a tough time finding everyone home to collect, they all picked that week to be gone, and when I counted my weekly collection, I didn't have enough to pay for my papers. That was the first time in my life I went into a cold sweat over money, something that would be repeated on numerous occasions in the years to come, raising nine children who all went to college. A $3 withdrawal from savings solved the problem, but it was a week's pay, and a major deal for an 11 year old kid.

They don't have paperboys anymore, and that's too bad, it was a great experience for a young boy to learn about running a business. Oh sure, an adult drives by my house every morning about 3 AM putting the paper in mailboxes, but somehow that doesn't count.





Global Air Aviation Referral Service


---
I welcome responses, and will be glad to post them here. Email your remarks to ron@global-air.com
Most Recent Editorial
Recent Global Air Links: