August 12, 2009
Ignoring Clint Eastwood's advice in "Dirty Harry" that opinions, like certain body parts, are best kept to yourself.
---
U.S. Banks will earn $38 billion in overdraft fees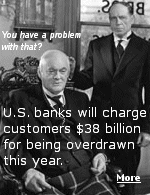 It is no surprise to many that banks make a lot of money on overdraft fees, but the news last week that U.S. banks expect to earn $38 billion this year was a bit of a shocker. Charging the most to customers who can afford it the least amounts to about 75% of total bank fee income, as banks struggle to cover lending losses by passing the cost on to low-balance depositors.

When I started working at a bank in 1959, the standard charge for being short in your account was about 50¢, and that was the total for the day regardless of how many checks were involved . Fifty years later, banks routinely $30 or more per check, with no limit. I've heard the horror stories from my kids about being charged $70 by the bank for paying a couple of $10 or $20 checks, and it has happened to me.

Where is the outrage from Washington or the State Capitol? You won't find any, the banks have paid a lot of money to keep doing business as usual. OpenSecrets.org keeps track of political contributions, and shows commercial banks to be major contributors to politicians on both the national and state levels. Check some of their statistics here. In addition, most or all state banking associations have "BankPac" organizations, extracting money from bank officers for contribution to state and local elections. Years ago, I got a phone call from the company that owned our bank, saying they hadn't received my personal check for the BankPac, with a reminder that "these things are taken into consideration at your next salary review". Not responding well to threats, I didn't send it.

To keep everybody happy, except low-balance bank customers, politicians periodically go after some other area of bank services that only affect a small percentage of customers, where not much money is involved. For example, shortly before Paul Wellstone (D-MN) died in a tragic plane crash, he was on the news for several days complaining about the high cost of using ATM machines, and how those $2 fees were outrageous, and he was going to do something about it. Who was complaining? Having spent 35 years in the banking business, I can tell you it was probably higher-balance depositors who were never being charged for anything in a bank. Sure, they could easily afford the $2 bucks, but it just ticked them off, and it was a good way for politicians to avoid the real issues.

Banks have gotten more creative in recent years about how those charges are assessed. The practice was always to pay all the checks you could with the funds available in the account, to avoid abusing the customer unnecessarily. For example, if the depositor had $100 in his account, and four checks came in, say for $50, $20, $25, and $40, the bank would pay the three smallest checks first, leaving $15 in the account to cover the $50 check. The next morning, the customer would find himself overdrawn $35 plus an overdraft fee of perhaps $5 or $10.

Fast-forward to the present with that same depositor with $100 in his account: To increase fee income, the bank would pay the $50 and $40 checks first, leaving the customer with $10 to cover both the $25 and $20 checks. The next morning, this customer is also overdrawn $35, but the fee is now assessed on two short checks instead of one, and might total $60 or more.

Just how profitable are overdrawn accounts to a bank? Don't they have a lot of money at risk? This is an amazing profit center for a financial institution. I know of a bank that has $100 million in assets, that would be a fairly good-sized community bank, and they make about $750,000 a year in overdraft and return check income. On their balance sheet, overdrafts are carried as an "earning asset", and the average daily outstanding average of overdrafts on that line was about $75,000. Think about it this way: if someone came to you and offered you an opportunity to invest $75,000 in something that would pay you back $750,000 a year, would you take it?

What needs to be done? If you could be Senator or Congressman for a day, you could introduce legislation that would:

Outlaw the practice of "paying large items first", or in "check number order", rather than by the customary "smallest to largest amount" method. Banks pay the big checks first for one reason only, and that is to charge you more fees. Any other reason they give is baloney.
Require OD fees to not exceed the amount of the check causing the overdraft. Many banks charge a $35 fee when the shortage might only be a couple of dollars.
Have a daily maximum charge, so that some poor sap doesn't get, for example, a $140 charge for having four small checks come in the day before payday.
Require banks that offer overdraft protection programs to have information about them readily available. Over the years, since "Checking Plus", "Ready Reserve", and similar plans were introduced, banks stopped advertising them, have taken the brochures out of their lobby, and only keep them in a desk drawer for their best customers. They would rather make big money of overdraft fees, instead of small amounts of interest on personal lines of credit.
Eliminate the 3:00 PM cut-off for deposits, no longer needed with modern electronic processing of checks and deposits. A deposit made today, regardless of the time, should be credited today. Of course, that would cost the banks millions or billions in lost revenue.
Require Quarterly Bank Call Reports to break-out overdraft and return check income as a line-item, and let customers know where they can find a copy of that report online, or request one by mail.

If your bank is open for business on holidays when other banks, including the Federal Reserve, are closed, ask yourself why? I worked for a bank that was open on all of those optional holidays like Presidents Day, Columbus Day, and Veterans Day. Most of our competitors, and the Federal Reserve were closed, why weren't we? The loans were still earning interest, and if nobody is there, the utilities and other expenses would be much lower. I knew why we were open, the owner told me, he just couldn't stand the thought of paying employees for not working, and the loss of overdraft income on those days amounted to thousands of dollars.

Shop around for a bank that doesn't gouge you with fees, there are still some out there. Recently, I drove by a bank in a Minneapolis suburb that had a big banner hanging on the building that said "We're the bank with the $15 overdraft charge!" I'll bet they picked-up a lot of business. Bankers will say "why go after customers who are going to be overdrawn?" Think about it, they aren't overdrawn every day, just now and then, and when they need a car, home or business loan, where are they going to go first?

Years ago, my dad was president of a small rural bank owned by a company that had about 100 other banks. He was constantly getting pressure from the home office to raise his overdraft fees and engage in some of these creative schemes to increase income. I remember him telling me one night at the dinner table, "If I have to earn money for the bank by doing that, I'm getting out of the business". It wasn't long after he retired that the new bank president raised all of the fees to towering new levels.

Did I miss anything?




Global Air Aviation Referral Service


---
I welcome responses, and will be glad to post them here. Email your remarks to ron@global-air.com
Most Recent Editorial
Recent Global Air Links: