August 22, 2007
Ignoring Clint Eastwood's advice in "Dirty Harry" that opinions, like certain body parts, are best kept to yourself.
---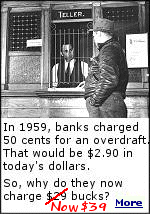 Why Overdrafts Cost $29 $39 (or more)

When I started working at the bank in 1959, we charged 50¢ for an overdraft, and that was per-day, not per-item. I remember a farmer coming into the bank to complain about the fee. Back then, we always wanted to keep the customer happy, and his 50¢ was promptly refunded.

So, how did we get from half-a-buck to what banks are charging today for this service? Well, a lot of it has to do with the same reason a Black Lab licks himself. Because he can. Over the years, banks have figured-out they can make small increases, usually on an annual basis, and who is going to complain? The bulk of their deposits come from about 20% of their customers ( the old 80/20 rule ), but in recent years a large chunk of their income has come from that 80% who don't keep much money on deposit. How can that be?

These are the people banks love to hate. Every bank has a group of customers that are on the short-list every week, some every day, and they're charging the heck out of them. If the customer complains, the answer is simply a suggestion they keep better records, or "don't write the check until you have the money", or the mother of all replies, "Why don't you take your account somewhere else??"

Banking's big secret is, that about one-half of their after-tax income comes from overdraft and return check charges.

Appealing for a refund does little good, once they take the money out of your account, they don't want to give it back. I remember we had a restaurant owner who used to be on the list almost every day. I figured, that if the guy could get one day ahead, he'd never be on the list again. He paid us nearly $1,000 a month in overdraft fees. He was, absolutely, our best customer. So, how was he treated? We treated him like dirt. His name came up one day in a meeting as the guy who "paid us enough to cover our employee Christmas Party and all the employee gifts", and everyone laughed.

Over the years, banks learned that no matter what they charged for a bad check, they could get it. The customer writing short checks hardly ever leaves your bank, where is he going to go? Every bank is charging similar rates, and when the rates go up across the street, up go yours. So, over time, they are where they are today. Applying inflation factors to that 50¢ back in 1959, the fee should only be about $3 bucks today. The government isn't about to step-in and throttle these fees, in fact bank examiners will sternly grill any bank president who is not making his bank more money this year than last. To them, good profits equate to safety and soundness.

The banking industry does what it can to protect what it has going, keeping competitors out of their markets, and maintaining a good relationship with politicians, often by contributing to political campaigns. In addition to the State banking associations efforts, The American Bankers Association contributes plenty to both major parties. Here is a list of what they gave in recent years.

So, if you happen to be on that short-list of people your bank loves to hate, what can you do to improve on the situation? Make it your goal to never be overdrawn again. If your bank offers online banking, sign-up for it, and get in the habit of checking your account daily. If they offer tranfer ability from other accounts, or a credit line, take them up on it. If there is a mid-day cut-off for accepting deposits, get it there on time.

With three kids in college, and a wife with her own account, I check balances every day, and once in a while I have to roar-down to the bank at the last minute to prevent a financial tragedy. One day, I stopped in to make a deposit to one of the accounts about noon, and the teller smiled sweetly and said, "Oh, it is 3 o'clock already??"

About that 3:00 pm cut-off in the lobby, why do they do that? In the old days before computers, banks needed to do that so the staff could take a coffee-break and then go to the back room and process all the work that had come in that day. Checks drawn on other banks needed to be mailed to the Federal Reserve, or be ready for the courier to pick-up. The tellers needed time to balance their windows, and make final accounting entries. There was a lot of work to be done before heading home at night.

Technology has changed much of that, but the 3:00 pm cut-off is still around in most banks. A few years ago, I was president of a bank about an hour drive from Denver, Colorado. A customer came in one day, saying that he could never get to our drive-up window in time with his paycheck, and that some times resulted in an overdraft. "Why do you have to cut-off at 3 o'clock?", he asked. I checked into it, and learned that the only real reason was, the courier taking the checks to the Federal Reserve in Denver came at 5:00 pm. So, I called the armored car company and they had another truck that came by every night at 9 o'clock. I changed to the later courier, and announced to everyone that a deposit made today is credited today, and that solved the problem.

A couple of months later, the owner of the bank called to ask me why our overdraft income was down.




Global Air Aviation Referral Service

I welcome responses, and will be glad to post them here. Email your remarks to ron@global-air.com
---
Here's one for you. My bank used to pay checks like other banks, the smaller items first, leaving the larger items for last. That always seemed like a fair system, and if there was an overdraft or return check, it always resulted in fewer checks being involved. But a genius 29 year-old vice president down at the bank figured out that, if they paid the checks in CHECK NUMBER ORDER instead, it would statistically increase the number of checks that couldn't be covered with the available balance.

For example, let's say you have $100 in the bank, and 4 checks show-up for payment: #1501 for $90, #1502 for $20, #1503 for $25, and #1504 for $50. Under the old system, the one most banks use, checks # 1502, #1503, and #1504, totalling $95 would be paid, leaving $5. So, if the bank then goes ahead and pays check #1501, you would be $85 overdrawn, and the bank would charge you a single $29 fee.

But, thanks to that 29 year old vice president's brilliant idea, the bank would pay #1501 first, leaving just $10, and the other checks would create a 3-check overdraft, and an $87 fee for that day. The bank screwed-me over for an additional $59, thanks to the new system.

So, after I figured this out, I carry two pads of checks in my checkbook. For all checks under, say, $50, I use the pad with the lower-numbered checks. For all larger checks, like my mortgage payment, I use the second pad of higher-numbered checks. And sure-as-shootin', one day, my mortgage payment came in, along with a couple of smaller checks, but because the big check was a much higher check number, the bank could only charge me a single overdraft fee.

I went right down to the bank to make a deposit, and while I was in the lobby, the young officer came over and said, "Hey, we noticed you are writing checks out of order in your checkbook... is there a problem?" I just smiled, and said, "No, no problem..." and left the bank. The %*^&#.

Larry - Minnesota
---
As a retired banker, I remember we had to push "credit life" insurance to loan customers. That was one of the worst expenditures of money you could find. Every loan officer had a good story to tell about Mrs. Smith or Jones, whose husband died, and their loan got paid off. Obviously, if they were concerned about that, any number of term life policies were available on the market from various companies for a fraction of the cost. At our bank, we paid the officers bonuses based upon how many people they could screw on the credit life scheme. Lenders that did not push the product were looked down upon, and could kiss their future goodbye because they were not "team players". Most of the installment loan officers were so brain-washed they actually believed in the product.

I remember when someone lost their checkbook and reported it to the bank. We charged them a stop-payment fee for letting us know. Hell, if someone used their check and forged a signature it was the bank's problem not the customer's. It would have made more sense to pay them if they notified us and a forged check came in.

David J. - Texas
---
Most Recent Editorial
Recent Global Air Links: