August 30, 2011
Ignoring Clint Eastwood's advice in "Dirty Harry" that opinions, like certain body parts, are best kept to yourself.
---
Man's Best Friend To The End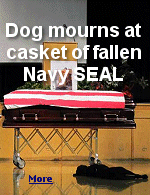 "Navy SEAL Jon Tumilson lay in a coffin, draped in an American flag, in front of a tearful audience mourning his death in Afghanistan. Soon an old friend appeared, and like a fellow soldier on a battlefield, his loyal dog refused to leave him behind." Scott Stump, TODAY.com contributor

When Tumilson's labrador retriever, Hawkeye, walked up and lay down by the coffin, there couldn't have been a dry eye at the funeral.

I was talking about this story yesterday with a friend of mine, who also has a laborador. My friend said that when his mother died, he asked the funeral director if it would ok to bring his dog in to see the body, the dog really liked mom, he said. The funeral director said that would be fine, and he was often asked about bringing in a pet. So, after everyone else was gone, my friend went out to the car and brought his dog into the funeral home. The dog went up to the coffin, stood up on his hind legs to see the body, and licked the mother's hand.

No human is more loyal to you than your dog. Harry Truman said "If you want a friend in Washington, get a dog." The old joke listing reasons why a dog is better than a wife, included "the later you come home, the happier your dog is to see you".

Someone told me, the reason a dog is so happy when you come home is that, when you leave, they assume they'll never see you again. So, when you return, it is like having you come back from the dead. This summer, my wife and I took a couple of our kids and a couple of grandkids on a motorhome trip to Newfoundland, we were gone about 3 weeks. My son Jim stayed at our house to take care of our dogs and to watch the property. So, when we returned and walked into the kitchen, there they were waiting for us. Talk about being excited, you never saw a happier bunch than those dogs. Pomeranians are "smilers" and I thought little Junior, our 3 year old male, was going to smile and wag himself to death. When I headed for bed that night, Junior jumped right in and snuggled up next to me.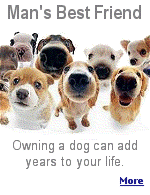 Anyone who thinks animals don't have feelings has never owned a dog. These faithful critters display a wide range of emotions, they get happy, sad, lonely, excited, and sometimes fearful. Our cocker spaniel, Nuggie, is terribly afraid of thunderstorms, we had a good one in the middle of the night last week, and I was forced awake when Nuggie walked on my head, and then started to lick my face, looking for protection.

Without asking, dogs take on the role of guarding your property, and sometimes this can cause some real problems. Whenever someone walks or bicycles by our driveway, the dogs will start up, rushing to the window, or the end of their rope in the yard, and start barking. A couple of years ago, I had a sheriff's deputy at my door after Nuggie went out to the road to challenge a woman pushing a baby carriage. A woman pushing a baby carriage, imagine that. She wasn't hurt, nor was the baby, but it must have been a little scarey having a cocker spaniel barking away at you as you went by. So, she called the cops and I got a stern reminder to keep my dog under control.

Dogs are also a pretty good judge of character, when they see that a stranger is no longer a threat to the owner, they usually become instantly friendly. But, not always. There is a man that comes to visit on occasion, and the dogs just go nuts, if given a chance, they might take a bite out of the guy. There is just something about this fellow, who tries to be friendly to them, that bothers the dogs. What is it they sense?




Global Air Aviation Referral Service


---
I welcome responses, and will be glad to post them here. Email your remarks to ron@global-air.com

Most Recent Editorial
Recent Global Air Links: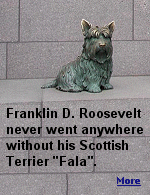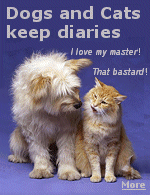 Got an upset cat?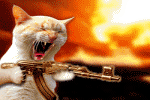 Maybe it's the litter box. Learn more about doing it right by clicking here.