September 20, 2023
Ignoring Clint Eastwood's advice in "Dirty Harry" that opinions, like certain body parts, are best kept to yourself.
---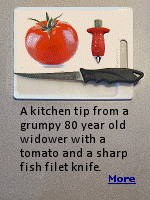 From the article to the left: One exception to the "no-refrigeration" rule is sliced tomatoes. If you happen to only use half of a tomato, you shouldn't leave the rest of it on the counter. Store cut tomatoes wrapped tightly in plastic wrap or in an airtight storage container. (sic)

I love tomatoes, but that whole tomato sitting in my kitchen starts to look funny after a few days, and after a few more I throw it away, promising myself to do better next time, just as I do when I toss bananas that I never got around to eating.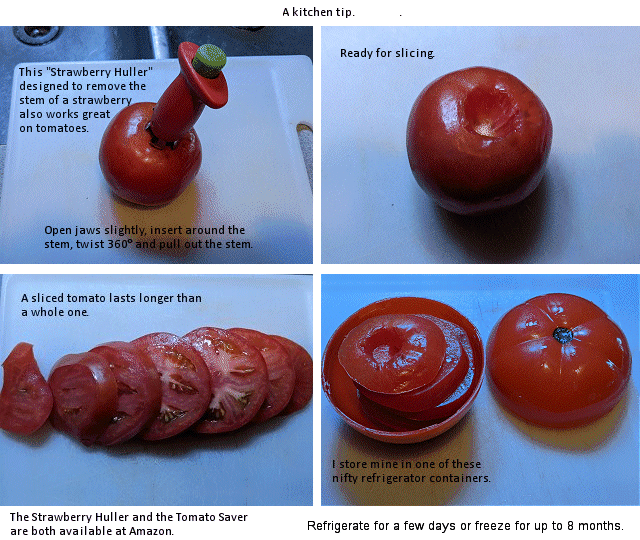 Cruising the Amazon website one day, looking for something else, I spotted a plastic tomato storage container that looked just like a great big red tomato. According to the information, sliced tomatoes last longer than whole ones, and this handy-dandy plastic container would store them for several days in the refrigerator, or they could be frozen for several months. Tomato Saver by Gourmac.


I ordered one, actually two, I seem to always do that, something my mother always did, It was amazing what we found in the attic after my parents passed away.

I set about trying out this tomato thing.

The first thing I ran into was how to cut out the stem, not the neatest surgery I'd ever done. But then I remembered a little red tool in the drawer I bought several years ago to remove the stem on strawberries. I found it and gave it a try, it worked like a charm.
Stem Gem Strawberry Huller

A while ago, I heard from a website visitor who said he was trying to keep a blog going, but suffered from "writers block", wondering how I kept at this all these years. I told him about something Ernest Hemingway said, "Amateurs write when the spirit moves them, professionals have to get up every day and knock it out". It doesn't have to be an epic best seller, I'd even written an article about my mother's frying pans. Mom passed away in 1985, and when my Dad died in 1993, the household possessions, including the cookware, went in various directions with family members, and I wound-up with the two big frying pans.

Now I can add this topic to the list of things Hemingway never wrote about.


Please visit my travel blog to learn more about my life on the road.






Global Air Aviation Referral Service


---
I welcome responses, and will be glad to post them here. Email your remarks to ron@global-air.com