November 6, 2014
Ignoring Clint Eastwood's advice in "Dirty Harry" that opinions, like certain body parts, are best kept to yourself.
---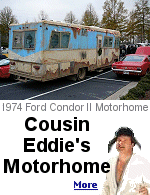 re'dendense/
noun - The inclusion of extra components that are not strictly necessary to functioning, in case of failure in other components.

I remember my son Andy showing me the internet for the first time, he'd subscribed to AOL back in the mid-1990's, and at a whopping 2400 baud we could read the news, get stock prices, go to those new and interesting websites, and I remember saying to him, "I'll bet I could sell airplanes on this thing".

My background was banking, with experience financing the airborne contraptions, I'd taken flying lessons years ago, but never finished getting my license. But, a friend of mine was a pilot and was doing a fair job of selling planes. He knew nothing about the internet, or how to build a website, and at that point I was only a couple of weeks ahead of him on that subject, but, between the two of us, we started to sell airplanes on the world-wide web.

One of the first things I learned was that planes have a lot of what is known as "redundancy". For example, most have two sets of radios, so if the main unit fizzles, you've got a second one to get you out of trouble.

When I got interested in motorhomes, I quickly realized that RV's, like airplanes or submarines, are loaded with redundancy, backups enabling you to do almost anything at least two different ways. I had a real problem with "suspension of disbelief" watching the 1995 movie "Crimson Tide" starring Gene Hackman and Denzel Washington. A billion dollar nuclear submarine gets into trouble because the only radio onboard blew a gasket. Hey, for a billion dollars they should throw in a couple of extra radios.

Here are some examples of how recreational vehicles handle this subject:



• A 120 volt AC system, to handle the air conditioners, microwave, and television sets, powered by either plugging into an outside power source, or by starting the generator. Typically, a motorhome generator draws fuel from the main tank, but as a safety feature, when the fuel level, I have a 75 gallon gas tank, gets down to 25% the generator quits, to be sure you'll have enough left to drive back to civilization, and we don't see your frozen body on the evening news in the Spring.

A 12 volt DC system, powered by the chassis battery or a power inverter converting 120 VAC to 12 VDC, to handle the interior lighting, operate the refrigerator, furnace, water pump, electric step, anything else requiring 12 volts. Some RV televisions operate on 12 VDC, or can be powered by a 12 VDC to 120 VAC converter, I have one for both televisions and for the DVD player.

The refrigerator/freezer generally runs on either 120 VAC or LP gas, switching automatically, and some models also run on 12 volt DC. I also have a Dometic portable freezer that keeps steaks and ice cream rock hard at -0- degrees Fahrenheit, 120 VAC, but switches automatically to 12 VDC when needed.

LP (liquid propane) gas to power the furnace, oven and range, water heater, and as a backup source for the refrigerator/freezer, comes from a built-in tank, typically about 18 gallons, but an external source, such as a 20 lb. or larger propane tank can be hooked up using what is marketed as a "stay-awhile" hose kit. This provides a good backup source in an emergency, or when you just can't, or don't want to unhook, button up, and drive the motorhome to town. I have three 20 lb. "BBQ" size LP tanks, easy to get refilled or swapped for full ones.

Separate engine and chassis batteries, with a jumper button in case your engine battery is dead you can start using the chassis battery. Likewise, if the chassis battery is low, perhaps after a night in a Walmart parking lot, you can start the generator, usually started with the chassis battery, with the engine battery using that same jumper button. One or more Solar Panels can be installed on the roof, an item on my "wish list", to keep your chassis batteries charged, eliminating the need to run your generator or engine to keep them up.

A fresh water tank, mine is 75 gallons, filled from an external source, with an electric pump providing water to sinks, the toilet, and shower. And, the water system can be hooked directly to an outside source, usually an RV park faucet, bypassing your inside tank. A regulator is highly recommended to prevent problems with your inside plumbing. Before I bought one of these protecting devices, the kitchen faucet assembly on my first motorhome blow right in the air from high water pressure, and leaks can develop inside your walls, expensive to find and repair.

Adding a hot rod electric heating element to your LP gas water heater is becoming a popular option, to save your gas supply when you're in an RV park, and new motorhomes generally come with that feature already installed. For faster recovery you can run both at once.

Electric heat can be added to newer air conditioners, or they can be ordered that way. Not a replacement for your furnace, but the 1800 watt element, combined with the high air volume blower of the air conditioner will take the chill off, and eliminate the need for a space heater.

The couch is a hide-a-bed or day bed, and the dinette will convert quickly to another bed, providing additional sleeping for up to four, in addition to the regular bed, and in many models, like a Class C, a bunk is above the cockpit. Some of the newer and more expensive Class A motorhomes offer optional "bunk beds", complete with individual fold-down flat screen televisions, great for the grandkids.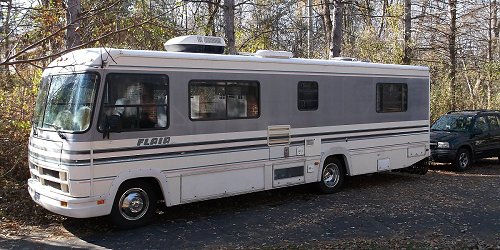 These aren't fallout shelters, but if you overlook the possibility the next tornado could blow your RV back to Kansas, with all of these features, with plenty of food and snake-bite medicine on board, these recreational vehicles can provide real backup protection for you and your family in case of disaster.

I want my next motorhome to have even more dual purpose features, like a new-fangled white porcelain machine in the back that both washes and dries the clothes, I'm tiring of laundromats. Last week, I watched two women get into an ownership dispute over a quarter on the floor.




Global Air Aviation Referral Service


---
I welcome responses, and will be glad to post them here. Email your remarks to ron@global-air.com

Most Recent Editorial
Recent Global Air Links: