December 3, 2011
Ignoring Clint Eastwood's advice in "Dirty Harry" that opinions, like certain body parts, are best kept to yourself.
---
Remembering Mom on my birthday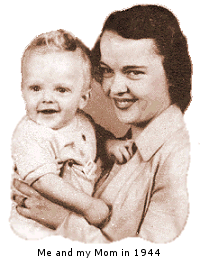 This week, I turned 68 years old, and it was without a lot of notice or excitement. My wife was down in St. Paul helping my daughter get ready for a birthday party for my granddaugher Gabrielle with the neighborhood kids, we share the same date, many years apart. So, I spent my day doing what I normally do, working on my website, making phone calls to buyers and sellers of airplanes, checking the snail mail and email, letting the dogs out, letting the dogs in, watching television, and fiddling on this or that household project.

My parents both died many years ago, but there is never a day I don't think about them, and especially my mother when my birthday rolls around. When I was born in 1943, my dad was in the South Pacific, fighting in the second great war, and my mother was home in Sioux Falls, South Dakota. I didn't see my dad until he came home in 1945, and I only knew him as a photo in my grandparent's home. So, my mother and I were a team alone for the first couple of years of my life.

Fast-forward about 20 years, and I'm now in my 20's, out of school and working, and December 2nd is coming up on the calendar again. A woman in my office had just gotten some flowers from her boyfriend, and all the other ladies were making a big fuss over them. And, it was at that moment I thought "I'll bet my mother would like to have flowers, I'll send her some." Back in 1964, it wasn't so easy to just call anyone on the phone, I remembered the name of the florist in my hometown, and with the help of the operator I dialed them up. The florist knew my parents, and said that roses would be nice, a dozen of them for about $8 as I recall. This was before credit cards, but the lady told me to just drop a check in the mail, which I did, and the roses would be delivered the next day, on my birthday. The card read "Remembering you on my birthday".

I had no idea what a tradition I had created. The next day, my phone at work rang, it was my mother, telling me how beautiful the roses were, and how much she appreciated them. I don't think I ever heard her so excited about anything. From then on, until mom passed away in 1985, the florist delivered a dozen roses to her every December 2nd.

A few years after I'd started this ritual, I was out in a boat fishing with my dad, and he said "By the way, don't ever forget to send mom those roses on your birthday, you can't imagine how she looks forward to getting them". "That's all she talks about for days before, and when they arrive, she gets on the phone and calls her sisters to tell them how beautiful they are."

That was a good reminder, and as disorganized as I can be sometimes, that annual phone call to the hometown florist, who also had it on her calendar, was always made.




Global Air Aviation Referral Service


---
I welcome responses, and will be glad to post them here. Email your remarks to ron@global-air.com

Most Recent Editorial
Recent Global Air Links: